Storm Sandy: Lessons Learned for Small Businesses
Small business owners caught in Sandy's wake learned some tough lessons on what it takes to weather a storm. Would your business prevail?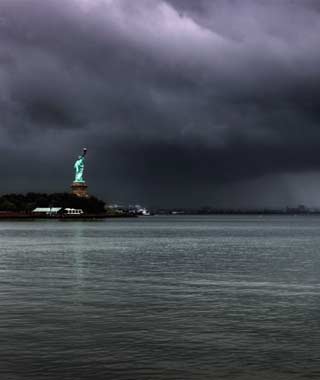 When Superstorm Sandy made landfall in the greater New York City area last October, it was like the stuff of a science fiction movie. Ocean surges overtook entire communities. Mass transit systems were paralyzed and tunnels flooded. Millions were without power for days.1 Thousands were left homeless. Not since the Great September Gale of 1821 has a hurricane directly targeted parts of New York City.2
Months later, many small businesses within Sandy's wide East Coast swath are still struggling to get back on their feet . According to the U.S. Chamber Foundation's Business Civic Leadership Center, between 60,000 and 100,000 small businesses have been negatively affected and as many as 30% of them will fail in the coming months. Early estimates put insured losses as high as $20 billion not including national flood claims, making Sandy the third costliest U.S. hurricane based on insured losses, topped only by Hurricane Katrina ($46.6 billion) and Hurricane Andrew ($22.9 billion).3
What has Sandy taught us? How can small business owners be better prepared in the future?
Expecting the Unexpected is Becoming a New Reality
Extreme weather is real and it's happening with increasing frequency. In fact, 2012 was the second most extreme year on record for the contiguous United States. Eleven $1 billion plus events occurred on U.S. soil4 with Superstorm Sandy topping off the year with her $20 billion price tag. In 2011, a record 14 separate disasters ranging from floods and unprecedented tornado outbreaks to hurricanes, wildfires and winter storms struck the U.S., each costing $1 billion or more in damages. 5
Storm Sandy Lesson: It's important to know the potential risks for your area and take measures to reduce your exposure now, before an event occurs. Disaster preparations – and a business continuity plan in the event of a disaster – should be taken care of well in advance of extreme weather. Don't wait for the weatherman's forecast to start planning.
Storm Time May Be Down Time
One day before Sandy's landfall, coastline communities were evacuated, mass transit was shut down, and schools and businesses were closed. By the time the storm had passed, many businesses had already been shuttered for two full days.
When the power went out some businesses assumed they were prepared with portable generators at the ready. Unfortunately, without power and a backup plan of their own, many fuel stations were unable to pump gas. Long lines and rationing at stations that were open illustrated that backup generators alone couldn't keep a business open after a storm of this magnitude.
According to a post-Sandy survey by The Hartford, 71 percent of small businesses affected by the storm experienced a power outage.
Of those, 74 percent had to close their doors for a period of time, and it took them an average of 7 days to reopen.6 Loss of connectivity also had a big impact for 56% of The Hartford survey respondents,6 likely affecting their ability to contact customers and keep their businesses open. View all Hartford survey stats »
Storm Sandy Lesson: How long could your business survive with its doors closed? Put aside emergency funds to help you survive a short term disruption to your business and talk to your agent about business income insurance. This coverage may reimburse you for income lost if your business is closed due to a covered cause such as a power outage.
Protecting Your Business' Most Important Assets
MCD, a small digital marketing and customer experience agency in New York City, was prepared for Sandy, or so partner Ian Magnani thought. When the storm hit, backup drives were safely stashed in a bank vault blocks away, the office was secured and employees were home with their laptops ready to work.
"We were prepared for a small scale power outage, but never anticipated New York City losing power for almost a week." – Ian Magnani, MCD
But there was an unexpected wrinkle: Sandy took the power out to both the bank and the office, leaving MCD's file backup drives inaccessible. The team needed to retrieve the files and the office was their only hope. Entry was complicated, though. The elevator wasn't working and the stairway fire door to the office was locked from the inside. Ian and his landlord had to enter the building's darkened stairway with flashlights and take down the fire door with a crowbar.
"Our backup files were too close to our current location," Ian said. "We were prepared for a small scale power outage, but never anticipated New York City losing power for almost a week." Since Sandy, MCD has a new policy of mirroring file storage and back up drives to their office in Chicago. They've taken other measures, too, including a door that opens from the outside.
Storm Sandy Lesson: Backing up data daily is not enough. Keep your most important documents in a safe that has been tested and listed by UL (Underwriters Laboratories) as being resistant to fire, heat, burglary tools and torches. And keep copies of critical data and important records at a secure, offsite location to avoid loss to the same disaster that destroys the original.
Getting Back to Business Can Be Complicated
In Sandy's aftermath, millions were struggling to get out from under the devastation and at the same time, creating contention for resources to help with rebuilding. 44% of small businesses impacted reported limited access to suppliers and vendors as well as issues with customers and employees (65% and 47%, respectively), many of whom were absent dealing with their own recovery or without the public transportation they normally counted on.6 It all added up to a much different story than a claim for a singular event impacting a single business.
Are there any alternative locations from which I could operate my business in the event of a disaster?
Do I have backup suppliers or vendors located outside of my region?
Would my employees be able to work remotely if our physical business location was inaccessible?
Do I have emergency contact information for each of my employees?
Does my business have an emergency response plan in place, with established procedures for shutting down operations, communicating to employees, and protecting vital records?
Do I sufficiently and routinely backup data in case of hardware failure or data loss?
Make Sure You're Covered
Talk to your insurance agent on at least an annual basis to discuss the right types and amounts of insurance coverage for your unique needs. Many victims of Superstorm Sandy were shocked to learn that they were not covered for various losses they incurred. Flood damage, for instance, is typically not covered by your standard business owner's policy. And your business doesn't have to be on the waters' edge to be at risk of major flood damage caused by storm surges, cresting rivers and melting snow. Ask your agent if commercial flood insurance is right for you.
Additionally, you may want to also inquire about business income insurance. Many business owners who thought their business insurance policies would cover lost income in the event of storm like Sandy discovered that they were not covered when a power outage occurred off premises.
Storm Sandy Lesson: Take the time to meet with your insurance agent annually to review the details of your coverage. Ask if additional coverages, such as business income insurance, are right for you and your business.
Being Prepared and Protected Can Make the Difference
According to The Hartford survey, more than one-third of small business owners (36%) affected by Sandy reported that her impact was significant, with 52% impacted reporting loss of sales or revenue.6
In fact, an estimated 40% of businesses impacted by a disaster don't reopen their doors.7 However, with the right preparation and protection your business can prevail. The Small Business Administration and FEMA offer valuable resources and assistance designed specifically for small businesses in the event of a natural disaster. You can also check out The Hartford's step-by-step guide to disaster preparedness for your business.
To learn more about protecting your business, check out The Hartford's small business insurance solutions and meet with your local independent insurance agent.
1 "Hurricane Sandy Power Outage Map," Huffington Post, 10/30/2012
3 Insurance Information Institute http://www.iii.org/facts_statistics/hurricanes.html
4 Preliminary Info on 2012 U.S. Billion-Dollar Extreme Weather/Climate Events, NOAA
5 "2011 a Year of Climate Extremes in the United States," National Oceanic and Atmospheric Administration (NOAA), January 19, 2012
6 Hartford Small Business Pulse: Storm Sandy, March 19, 2013
7 Protecting Your Businesses, FEMA, last updated 3/1/2013